Age: If read out loud with the family: ages 9-11. For 12 years old with some family input or high school age kids alone.
Price: $28.95 print version or $14.95 ebook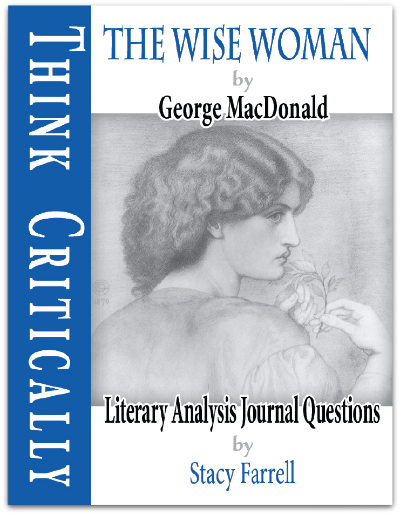 The Wise Woman by George MacDonald is a book parable type stories of real life situations that are bad and can be changed with the wise woman. This book is set up by chapters and after each chapter there are Journal Questions which are written by Stacy Farrell. They are simple to the point questions that also bring through provoking answers. The spaces provided for the answers are plenty enough for even the younger writers that still write bigger.
This book uses parables of stories with wolves, hyenas, and mystical places to teach things like conceitedness, selfishness, and to much pride are bad things. They use these stories to show the ugliness of them and how to turn it around.
I read this book out loud to my children. My children are 9, 7, and 5. I did not feel they would really understand it if they tried to read it themselves, and the overview on the website said it was a good book to read together. My 9 year old was OK with doing the questions at the end at first. She did have a hard time coming up with the answers on her own so we would talk about them before she put down her final answer. I really think talking about them before they give an answer is great, you can make sure they really understood this way. My other two kids are not writers so this helped them participate and understand in the out loud discussion on them. This allowed us to do a chapter every day or two.
I think this was a good read, I enjoyed it myself. I think it was a bit much for the kids to swallow though. My 9 year old got some things but only after me talking with her about the story. The younger two had no clue until I told them flat out the meaning. I think this would be better suited for kids about 12 and up as a read out loud and a teenager for alone reading and answering. I bet in a few years this would be a better read for the kids and it would be interesting how their views on the topics change. It is almost a book that would be interesting to redo every couple years with your kids to see how their answers grow and change. I think it would be a great keep sake for when they became an adult to see how their minds worked through their growing years. Plus it is never a bad thing to instill good morals in children.
Overall I think this was a great read and a fun activity. If not only for myself enjoying the read but for the kids to something out of it as well. It is always nice to see how things are taught in different ways than I would have thought how to do it.
Be sure to check out the 10% savings on this book and a few others until May 15, 2014! Remember though it is for the digital download versions only. This is the form that we used and we read the book from the computer and only needed to print the journal pages.