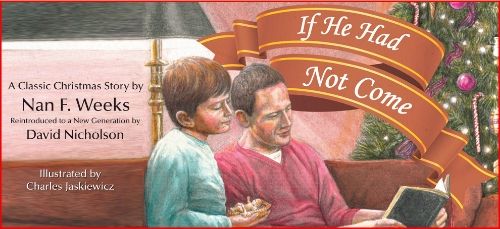 Price: $18.95 Hardcover or $3.99 E-book
Age: 6 and up


About:
If He Had Not Come is a Christmas book reintroduced by David Nicholson. David is a Christian writer as well as a retired teacher.
If He Had Not Come
was originally written by Nan F. Weeks in 1938. His new book has new illustrations as well as suggested discussion topics within its 28 pages.
The story is about a boy named Bobby. Bobby's father read him the Bible each night before bed. Christmas Eve was no different and a verse had stuck out to Bobby while listening to his father read. When he fell asleep he went into a dreamland. In his dream he woke up on what should be Christmas Day, however it wasn't like that. There was no tree, no presents, no decorations, or anything Christmas at all. He goes on and notices even the local factory was still working when they should be closed. Through his journey Bobby sees that this was much bigger than no Christmas. With out Jesus there was no churches, hospitals, homeless shelters or orphanages. The words "If I had not come" were at every location that he visited. Those words were from the verse of John 15:22. Bobby does wake up and see that it was all just a dream and he thanked the Lord for coming and keeping his promise.
How we used:
My family is all about Christmas. We love everything to do with it from Jesus to lights! I enjoy celebrating the novelty that Christmas has become with my family but I also make sure my children learn the real reason that we celebrate Christmas.
Since not all of my kids can read, and the fact this is a book all the family can enjoy, I read this out loud to them. The big colorful pages make this a great book to sit in front of your kids and read to them while they look at the wonderful pictures. After reading the book we went over the discussion questions. This was really fun to dive more into the Bible in a different fashion than just opening it up. It was great to have the book that the kids could relate to and be able to have an open discussion with them about Jesus.
I think this book is great for any Christian family. It would also work really well for a Christian homeschool group or even a Sunday School class. There is so many options and once you read it you will want to share it with other people. I can't wait until December comes and I can bring this to our homeschool group and share with them as we prepare for Christmas time. It is hard to find classic books that the whole family can enjoy and still be a celebration to our Lord. I hope all my readers will check this book out.
Facebook: http://www.facebook.com/pages/If-He-Had-Not-Come/1543755249189773?ref=tn_tnmn