Price: $42.95 for the full set
Age: Kindergarten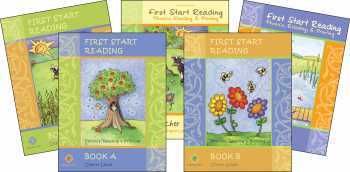 About: First Start Reading, by Memoria Press is a reading program for children at the kindergarten level. The program covers consonants, short and long vowels, common words, and printing. There are four story books and thirty-one phonetic stories. The full set also comes with a teachers guide which gives many tips as well as assessments. Each letter has its own page as well, then other pages with other activities on writing and reading. You can check out sample pages for each of the four books below:
You can buy the full set or just the student set. This is good if you already had the teacher book and have multiple children you want to use this with. I wouldn't suggest skipping out on the teacher guide though as it has a lot of helpful tips that you will not want to miss out on.
How we used: I used this program with my six year old. We just started kindergarten this year as he completely had no interest in learning last year. We have been having a hard time getting him interested in reading still. He is picking up numbers and such fine but all the reading work we find is so much work he gets bored fast. When I first looked over
First Start Reading
I loved how it was broke down into four books. This made it seem not as overwhelming for him. It is also not set up to do page after page of tracing letters, they are mixed up through the books.
Book A has 25 lessons and it starts with learning the letter M. Then you eventually learn the word am. The book does this to progress each thing you learned to the next lesson and so on. Book B has 26 lessons and progresses to short stories. Book C has 33 lessons and they learn more CVC words and some harder stories. Finally Book D has 12 lessons and teaches long sounds and blends with more stories.
We worked on a lesson or two each day. Depending on how well he was responding to what was being taught. This usually took us about 20-30 minutes by the time he traces and writes things out. Then coloring pages took longer of course.
He really picked up on learning the CVC words better this way than me just doing flash cards and trying to memorize them. It also helped him pick up the letter sounds as well better. I know there are tons of programs out there and I assure you I have tried my share with my dyslexic daughter. I could only wish this was in my hands when I was teaching her, I think it would have been so much easier. I think this program would be a great all in one starting program or even a supplement to help those struggling with it in school or homeschool.
Be sure to check out what my other crew members thought of it below.
Social Media Links
Facebook:
https://www.facebook.com/memoriapress
Twitter:
https://twitter.com/MemoriaPress
Pinterest:
https://www.pinterest.com/memoriapress/
Google+:
https://plus.google.com/u/0/+Memoriapress1/posts
Instagram:
https://instagram.com/memoriapress/