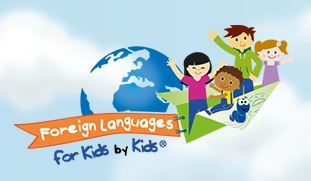 Vendor:
Foreign Languages for Kids by Kids
Product:
Starter Set 1
Price: $140.25
Age: About 3rd grade and up
About: There are always interesting things presented to us on the review crew. Sometimes we get things we are no sure how much we will like. I was giving the chance to review something from
Foreign Languages for Kids by Kids
. They have the
Starter Set 1
, which is their beginning Spanish program. This is geared more to children that are at least in third grade but it works just as well for a highschooler to use it to learn as well.
The whole set is $140.25. This set includes:
☆ 20 week curriculum guide, which includes gamea and activities
☆ DVD 1 that contains the first three videos Basketballs Aren't for Breakfast, The Little Magic House Part 1, and The Little Magic House Part 2
☆ Three workbooks that follow the videos
☆ Sticker set for Basketballs Arent for Breakfast
☆ Flashcard Set which has a graphic aND the Spanish words that are taught in the videos
The program uses the immersion technique to teach Spanish. They don't give you the English word but instead show your what it means. Just like when teaching your child to talk in your current language. You start out by watching Basketballs Aren't for Breakfast. This is a fun little story that once again is all in Spanish. However it is really easy to understand and follow along and things are repeated. I let Kailea watch the video, she is 11 years old, and then we played it thr second time and brought out the workbook that goes with this video. There is also a teacher guide that has the lesson plans, I read over them but felt more comfortable letting her go at her own pace. She watched the video several times while working on the workbook. She was also able to use the flashcards to help her practice and memorize the words better. When starting the second video, The Little Magic House Part 1, we seen that it really upped the difficulty. So I suggest making sure your child is completely comfortable with the first video and lessons before trying to move on to the next. Once she had the words down better she was able to start on video two and we did the same, letting her watch first before we watched again and brought out the workbook that went with it. She continues to use the flashcards from the first video in with hers from the second so that she doesn't forget them. She is pretty quick on those though. As with anything things get harder and she is having to watch video two several extra tomes to get them down. She is a very organized and almost OCD girl so she has really enjoyed having her practice cards. She keeps them out while she watches rhe video and puts them in order of the video and then practices on how to say them with the video the next time she watches. That was nice because she had the video visual but also the hands on with the card. She also kept them while working on her book because she could quiz herself through them if she found she was slipping up on remembering a word.
Overall we really loved the program. It isn't to kiddish so even if your beginner is older this would still be a great place to start. The repetition is key and having the additional resources like the workbook and flashcards are a great add on to help further the repition of words until they became fluent in the word. She tries to use them in place of the English words now. I have to admit I am confused a lot, I think I may need to sit down and do the course videos as well so I know what she is saying. It has also sparked interest in my younger kids but they sre kpt good readers yet so it was harder for them to pick it up. They do well with listening to the video though which is helpful and can be used alone as well.
You can also check them out on social media:
https://www.facebook.com/ForeignLanguagesForKidsByKids
Also see what my fellow crew members had to say about the set. They have children of all ages using this product.