Vendor:
Apologia Educational Ministries
Product:
Exploring Creation with Astronomy, 2nd Edition
Age: Notebooking Journal-3/4 grade and up
JR version- K-3rd grade
Price: Astronomy 2nd Edition Text- $39
Notebooking Journals - $27 each
ASTRONOMY 2ND EDITION AUDIO CD- $29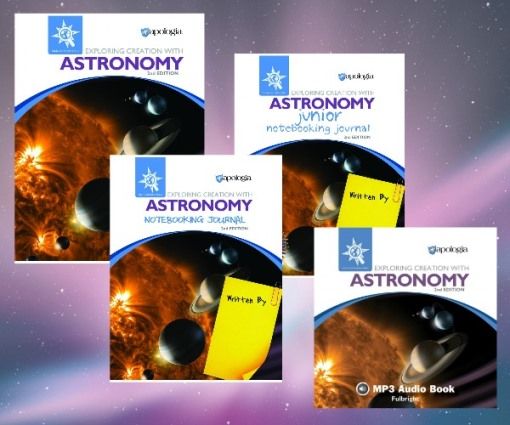 About:
Apologia Educational Ministries
always has grest Christian curriculum to work with. They are also really good for use with multiplegrade levels. I was very excited to get to review
Exploring Creation with Astronomy, 2nd Edition
. Included in what I received was the following:

Student Text
Notebooking Journal
Jr. Notebooking Journal
Audio CD

The student text is a hardback book that provides all the learning material for the lessons. The pictures are brightly colored and the text is easy to understand for multiple levels. One step further Apologia also gives the Audio CD option in which you can listen to the whole book on audio and just follow along in the text. This was such a great addition as it is helpful to those that are not strong readers or those that learn by auditory learning better.

The Notebooking Journal is for the older students. There is copy work as well as activities like minibooks. Then you also can use the Jr. Notebooking Journal which is for your younger kids. There is less writing in this version and more coloring. This helps the smaller ones not get so overwhelmed but are still learning the same thing.

The journals include a daily schedual on which section to read and do. This is great for those of us that do better with an already planned out schedual. I also like it because then my kids don't think I am just making them do extra work and am going by a premed lesson.
We have really loved this set and we will continue using it for the remainder of our year.


Be sure to check Apologia Educational Ministries on Social media. Also click below to see what my fellow crew members had to say about their experience with this Astronomy set. Each lesson is pretty short with great facts and learning. Then they add in an activitie like making a solar system or eclipse box. These were fun to make and helps add to the learning with hands on. My kids are huge fans of doing "fun science" as they call it. It makes it so much easier for then to pay attention through the reading and the book work to know their will be something fun for them to work on after. The book work isn't so bad either. There is some copy work as well as things like crossword puzzles. This makes it a little fun when they are still going over the things they learned in the days reading. Apologia Educational Ministries never disappointed us in the past and they did not this time either. One of the perks of the lessons is that it is all biblical based and has scripture through out the lessons to back up the facts they are using in the book. There is such a battle with secular things that it is good to show kids the Bible we follow and love validates the way we belive the world was created and the things in it are all Gods handy work for us to enjoy.
Social Media Links:
Facebook:
https://facebook.com/apologiaworld
Twitter:
https://www.twitter.com/apologiaworld
@apologiaworld
Pinterest
https://www.pinterest.com/apologia/
Instagram:
https://www.instagram.com/apologiaworld/