We were able to review the 2nd grade Online Homeschool Edition curriculum from A+ TutorSoft, INC. The cost is $19.95 a month or you can get a full year for $124.95. They also provide a FREE math placement test that you can have your child take to see what grade level they fall into before buying the program. Also right now they are having a free one month trial so you can see if you like it and if it is a good fit for your child. They have grades 1-6 and Pre-Algebra and Algebra.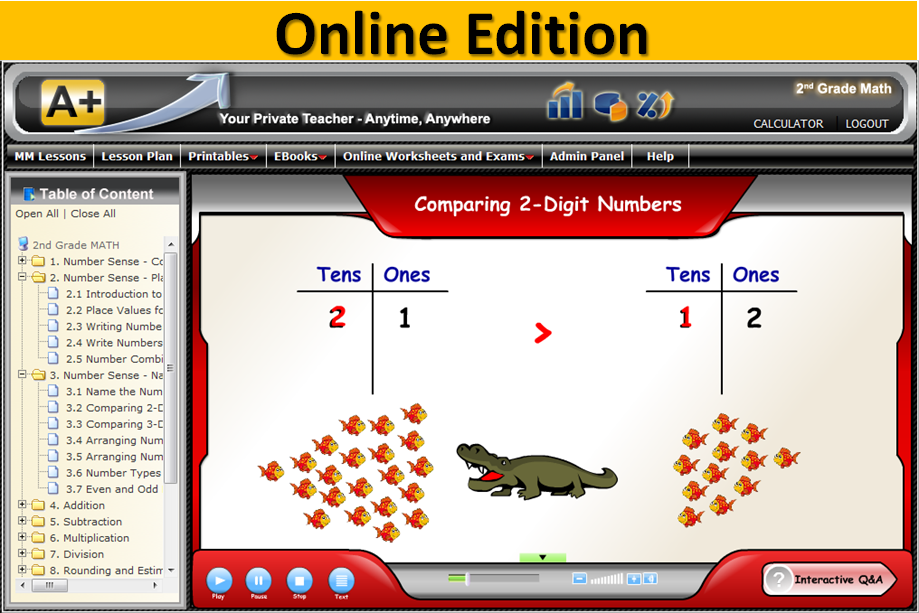 I was able to review the 2nd grade math with my daughter. My daughter really enjoys working on her own and not having me right by her. So I was glad to get to try this. I at first thought it would be a bit hard for her to navigate but she picked it up really quickly.
You have all of your sections on the left side that go in a good learning order. It gives you a little lesson on how to do that chapter then at the top you have worksheets to go along with it. A perk to using the online version is that it grades it for you and stores those grades. The chapters also come with a final test as well.
If your child is having a hard time with a certain section you can always generate new worksheets for added practice.
We do math for an hour a day everyday. Math is a very important skill to keep at so that you do not forget the skill. My 2nd grader has been able to work at her own pace at this which she loves. Since we started this review already into second grade she was able to fly through the first chapters. Now she is working at new areas and still doing well. The chapter introductions are very easy for her to understand. I can say that she has not had to ask me for help yet. She is able to understand the instructions given on figuring out the answers just by watching the chapter introductions. She loves that she can even get the site on the iPad so we are able to have her do some worksheets while we are traveling. Sometimes it is just nice to not have to have a book to pack around with you taking up room.
The first chapters were like review of things she learned last year but there were plenty of chapters at the end that excelled past what I think 2nd graders should know, like multiplication. I really loved that because we were not stuck since she is pretty excelled in math but not yet ready to switch to a 3rd grade program.
This company is so great they are giving my readers a 50% savings. That is right half off!!!! Offer code is SPOFFER50 and is good through the end of March.

Disclaimer: I received a free copy of this product through the Schoolhouse review crew in exchange for my honest review. I was not required to write a positive nor was I compensated in any other way. All opinions I have expressed are my own or those of my family. I am disclosing this in accordance with the FTC Regulations.