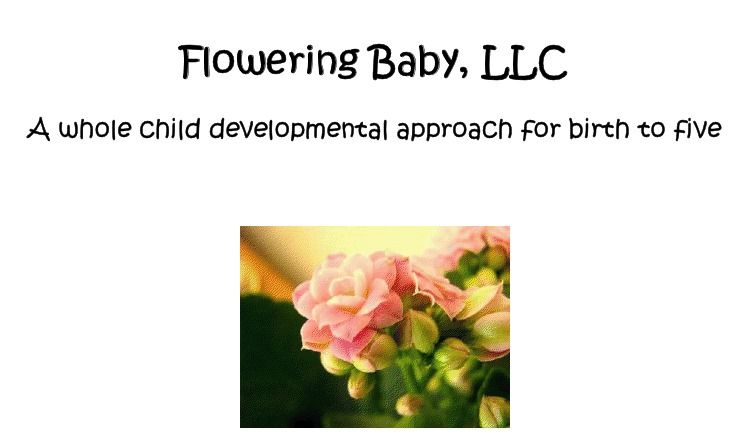 I am a firm believer in the fact that we start teaching our babies from the time they are born on. Even if you do not home school you still have a responsibility to teach your child until they go to school. I have noticed that now they want the kids to already know the alphabet and numbers before even getting into kindergarten. Well I found a great company that helps you do just that, Flowering Baby, which is a full curriculum based on development. The age range for this curriculum is from birth to 5 years old. The work ranges from 20-40 minutes a day for your kid and is based on their age up until 3 years old. From three years to five years the work changes to actual unit studies that you chose from.
They have 5 different steps as follows: Birth to One, One to Two, Two to Three, Three to Four, and Four to Five. I used the Three to Four and the Four to Five year old for my 4 year old son. The price for birth to three is $30 for each level, the three to four and four to five is $38, and the entire five year program is $132. This is a very good price to pay for a full years worth of work.
One of my most loved features is that they have a book list for you that help you with teaching. I am always overwhelmed at which books to get and this really helped me. Now it is still easy to exchange a book off the list with another one and still have the same outcome. However I found it very easily to find them at the local library. It is nice to have the set of books listed up front so you can have the library gather them for you and hold them. Makes mama's job that much easier.
The activities are quick and to the point all ready for you to do. The items needed to complete the activities (other than the book) are generally things you already have around your home! That is also a plus for me as I hate getting a plan only to have nothing to complete it. I am a single income/single parent and this is a bonus for me.
What to know perk about homeschooling? You can go check the mail with the worst hair in the world and no one cares! The feeling of having something so cool in the mail still makes you smile the same!
These are the CD's that we used.
When you open up the CD list everything is well organized. It is all planned out by month and at the top of the list it shows what supplies you will need that month. It then goes on down to show you what to do each day with your kid.
Day one we learned about the color blue! That so happens to be Micah's favorite color and it suggested we wear all blue. Then we went on to learn about triangles. It had us tape out a triangle on the floor, which is something I would have never thought to do. This gave a great visual as well as making it a fun little and silly time. I have to say that is the best part of this program. It isn't sitting down doing book work (what kid whats to do that at the early ages) but more fun and play time that is teaching. We were able to make a day each week with wearing the color we were learning as well as making shapes on the floor with the tape. It also made for a great track for his cars during the day which was also like a review.
Each day was carried out the same with fun and play. We were able to keep it simple and fun! This helped ease stress off of me with schooling multiple children that are all at different levels. I think the easier it is on mom the easier it is on everyone! It is a simple and quick thing to do everyday. We always did it usually when the other two were settled into their work. It didn't take long and gave us some much one on one time we needed.
We mainly worked with the three to four as I had not really started any schooling with my son before this curricula. We did review over the four to five year disk and it had more work with actually writing letters and numbers. It still gave very simple quick task the same as the three to four year old disk. We continued with the tape fun and made our letters with tape on the floor so he could trace them that way for learning to write them. There are themes as well as the monthly plans. Since my girls were doing fish in their school work we did look into the fish theme for this disk. It helped me add in his work to theirs even more and make it yet again easier on mama. I do think it will be great to use next year when we get to that point in is learning though. I love the simplicity of it. I really am all for gentle learning.
It is something that made him come to me daily asking what our new color was and bringing me the tape to make out a shape and the letter we was working on.
Want to check it out for a month for free? Check out these links...
Birth to One
One to Two
Two to Three
Three to Four
Four to Five
An even better addition if you would like to buy a program use BLOG10 for 10% off at their website.

Disclaimer: I received a free copy of this product through the Schoolhouse review crew in exchange for my honest review. I was not required to write a positive nor was I compensated in any other way. All opinions I have expressed are my own or those of my family. I am disclosing this in accordance with the FTC Regulations.