Price: $3.00-$27.60 depending on which books you get
Age: Multi Level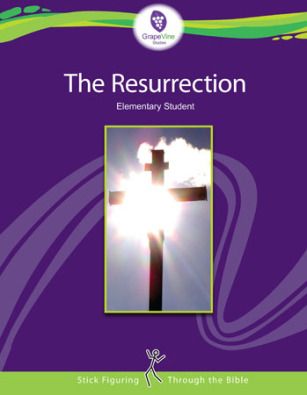 About:
Grapevine Studies
gave me the chance to review their physical version of The Resurrection: Multi-Level. From the name you can see this is for multi-levels and is great for a family Bible lesson. The program is broken down into 11 weeks worth of lessons which equals 40 days worth of lessons. The main idea of this program is that a passage from the Bible is read and then the child will draw out the verse via stick figures. All of these are then put together into a timeline of events for the kids. The pages are not bound in a book, instead they are pre-hole punched and need to be put into a binder. The stories covered go from Jesus' crucifixion on to his assent into Heaven. The teacher book comes with sample drawings and timelines, lesson notes, memory versus, and review questions with their answers. Once you go over the verse the child then works on drawings and filling out the time line. You continue doing so until the end of the lessons the child should be able to fill out the whole timeline in order to tell it all in a story.
How we used: We used the daily version of the lesson plans. Since we don't always do something the same amount each week, like we switch off every other day on which non-core subject. This allowed us to be able to do our pace. It also only takes 15-20 minutes a day to do. But don't be surprised if the children get interested in a topic and want to talk about it all day. My kids really enjoyed being able to draw while listening to the readings. I think it really helps kids focused in what they are hearing. They had to listen to the topic to make sure they were drawing it right. Then we had the review questions that I could ask at the end to make sure they got everything out of the reading they should. If they didn't we could go over the answer and we would go back to that part of the reading to show them where it happened. It actually was just as fun for me and the review questions brought some great talks with us.

Each week you start out with day one being a review day, except the first week. Days two and three we work on the student pages, these are the drawings. Day four is a drawing review page. We also worked on the memory verse each day.
This was a great program for us since we have 3 different ages but they were all able to participate.
Be sure to check them out on social media pages as well as seeing what my crew mates had to say. Also they reviewed other levels from Grapevine Studies.


Facebook: https://www.facebook.com/GrapevineStudies/

Twitter: https://twitter.com/GrapevineStudy

Pinterest: https://pinterest.com/GrapevineStudy