Vendor:
The Critical Thinking Co.™
Product:
Language Smarts™ Level E
Price: $42.99
Age: 4th grade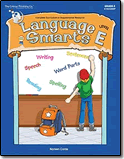 About:
The Critical Thinking Co.™
was amazing enough to let me try out their
Language Smarts™ Level E
curriculum. I have worked with
The Critical Thinking Co.™
before and have always enjoyed the things they offer. The
Language Smarts™ Level E
is a full Language Arts curriculum geared for fourth grade students. The book comes in at 400 pages long. A great thing is that it is fully colored, which I think helps keep kids eyes on the work. The book teaches reading, writing, grammar, and punctuation skills. It also then emerges into 5th grade critical thinking and vocabulary skills. The lessons are easy to follow with no pre-prep from the parents. They also include fun activities after each lesson.
We did two pages a day during the review period. There are 258 assignments so that means we did two of those in a day. This was just the right amount of work without overwhelming my child. Each one of the assignments are in a red box that are easy to read in a larger font and also have the directions highlighted to draw the eyes to what needs to be done. I really loved this because it helps you focus and also makes what is important to stand out. The lessons are fun as they have activities to do after them. like it he beginning we went over suffixes and prefixes as well as syllables. we had activities like word searches and unscramble of words. I think those things helped keep her wanting to continue on and get to do the fun part of the lessons. The book also covers word relationships, editing, parts of speech, using reference books, and much more. This really does teach everything that is needed to make it through 4th grade and get a good jump start on 5th grade.
I do think unless your child is firmly in 4th grade you may want to wait on the book as it does progress pretty deep but it also gives a great jump into 5th grade. I think by the end the child will be able to jump ahead in some 5th grade curriculums. Having short 1 page assignments really is good for those children that may not be easy to keep their attention. My daughter is one of those children and we didn't have to fuss daily to get a couple pages done. There is plenty to do two a day and make it through the whole year with just this book. however of you wished it could also be used along side another curriculum and be additional practice.
Be sure to check them out on Social Media:
Facebook:
https://www.facebook.com/pages/The-Critical-Thinking-Co/46128092293
Google+:
https://plus.google.com/114500823774999703181
Pinterest:
https://www.pinterest.com/source/criticalthinking.com
/
Also check out what my fellow crew members had to say about this book as well as others. They also have some great programs for pre kindergarten ages.
"Reading, Writing, and Arithmetic Before Kindergarten!™" program described here:
http://www.criticalthinking.com/preschool-academics
and/or our "Reading, Writing, and Arithmetic Before Kindergarten!™" described here:
http://www.criticalthinking.com/reading-writing-arithmetic-before-kindergarten-bundle.html
"