Apologia Educational Ministries has been one of my most favorite companies to work with. I am always happy to see when they come out with something else that looks like my kids can enjoy. So as you can see we were very excited to try out What on Earth Can I Do? by John Hay and David Webb. What on Earth Can I Do? is book #4 of a series of books. For this review I received the hardcover textbook, Notebooking Journal, Junior Notebooking Journal, and the coloring book.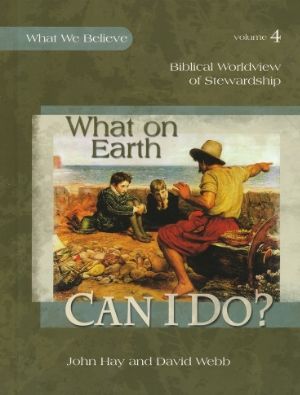 This is the last book in the four part series of What We Believe. Though all these books work on their own you do not have to do them in order. This book uses God's word to build upon teaching what our role in life is. We are made by God and for a reason. The book uses stories to show how we are all a part of His story.
Each lesson is divided up, starting with the Big Idea and then a real world page of history, followed by a fiction story that ties into it all. There are eight lessons and the suggested time is 3 weeks per lesson. There is a lesson plan at the first of the text book but also the notebooking journals have lesson plans in them as well. They show you how to incorporate them into the lessons from the textbook.
Since I used this with 3 of my kids we took a bit longer for the lessons to make sure the younger ones understood everything as well. The book is brightly colored with wonderful pictures that go along with the stories. The writing is big enough to be easily read by my readers.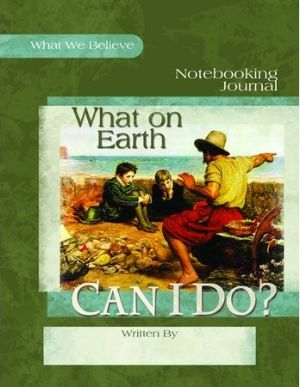 The Notebooking Journal I used with my 9 year old. She is an avid reader and does well with writing out answers. This book has questions for each lesson that she has to write her own answer out to them. There are more involved word puzzles that are a bit more advanced to do than the Junior book. The vocabulary is just the word and she has to fill in the definition herself. This book has mini books which help add a little but more crafting fun that the kids love. Also at the end of the book there are the answers to the word puzzles, if your kids like to cheat like mine you might want to pull these out first thing.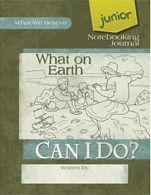 I used the Junior Notebooking Journal with my 8 year old that is dyslexic. She is still not really a reader and really despises doing to much writing. This book was great for her with coloring pages, easy word puzzles, and fill in the blank vocabulary lessons. It was nice to have less writing for her but still things that made her think and show that she was listening to the story from the textbook. She is also enjoying the mini books, although she wants to finish them all now instead of when we get to the lesson it belongs in.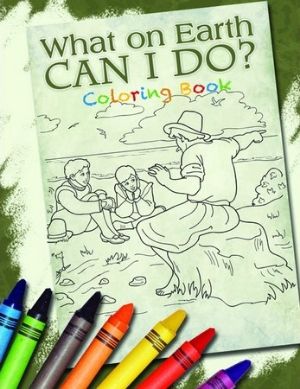 For the coloring book I decided it would be best to let my five year old be in charge of this. This made him feel a part of class and got him to sit with us and listen. This little boy has a heart for God and loves hearing about him, although he has ADHD it is hard for him to sit still just to hear a story. Having the coloring pages allowed him to keep his hands busy while listening to the story. The Bible verses are used in the book so followed right along with what we were learning.
Overall I think that we all enjoyed this lesson. I always find it hard to teach the kids about why things happen and that it is all in God's plan. This book was a perfect fit and I loved how it gave real life examples to explain it to the kids in a way that they could understand better. God had a place for all of us and He had made his story for us already. Sometimes kids always ask why and I think this book would be a good starting point when your child gets into the why stage. I hope if you check it out you will be blessed as well as your children. I hope that it will show your kids that God has them in his story and that is why things happen.
Be sure to also check them out...