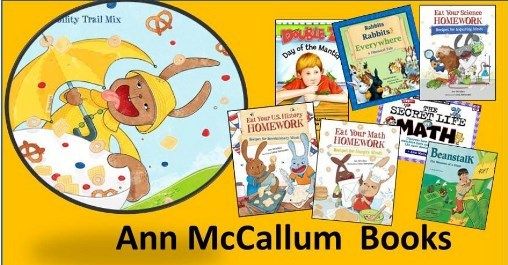 Price: $16.95 Hardcover $7.95 Paperback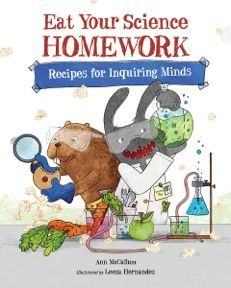 About:

Eat Your Science Homework

is part of a series of Eat your Homework books from

Ann McCallum Books. Eat Your Science Homework is written by Ann McCallum and beautifully illustrated by Leeza Hernandez. Ann McCallum started her career out as a one room school house teacher in Canada. She is now a high school teacher in Maryland. The book is forty-eight bright and colorful pages long. You may also download a teacher guide to go with it. That download can be found here. There are six different recipes aka the experiments. Those six are as follows; Atomic Popcorn Balls, Density Dressing and Veggie sticks, Invisible Ink Snack Pockets, Loop Whorl and Arch Cookies, Sedimentary Pizza Lasagna and Black Hole Swallow Ups

.

All of these recipes are science themed. There is also a science review as well as a glossary with vocabulary words. The book makes learning and eating fun for all.
How we used: I went through the book with all three of my kids. They are seven, nine, and ten. The book was colorful and inviting for all the kids. The book starts out with safety tips in the kitchen. Next we went over the scientific method. Each recipe then starts out with information about the science of something, like atoms. This gives the kids a lesson on science and then we go into the food portion to see how that science works in real life. Who doesn't enjoy being able to eat your homework? Some of the recipes were things my kids didn't want to taste but they still enjoyed doing them. Making the popcorn ball atoms was their favorite flavor. We also really enjoyed making the Invisible Ink Snack Pockets. The kids were making pictures to each other. We would spend a day going over the reading part and making sure everyone understood what we were learning. We would then make a list of the supplies we would need so that we could get them to do the experiment the next day. By splitting it into two days I was able to make sure they grasped and retained what we learned and that they were not just rushing through it to get to the food.
I do believe any age would enjoy these. Even if your child is older and already knows the terms in this book they would probably enjoy the hands on portion of it. I also think it is something fun to do as a family. Homeschoolers as well as public schoolers would both benefit from this, just to help see the science in action. I am excited to be able to try the other eating subjects that my other crew members got to review. Be sure to check those reviews out below.